Testing and Inspection
Offering electrical testing and inspection services on properties old and new throughout Brighton, Hove, Portslade, Peachaven and surrounding areas.
ALL NEW WORK TESTED, CERTIFIED AND REGISTERED
You can rest assured that any work undertaken by us will be installed to the highest standards and done in compliance with the latest building and electrical regulations.
On completion of the job it will be tested and where required (pretty much any job except for a like for like swap of a fitting) an installation certificate will be issued.
In addition, any notifiable works will be registered with our governing body NAPIT under the 'PART P' scheme and you will receive an additional certificate from them which you can show to your building inspector if necessary to prove the work was done by a registered, qualified electrician.
Information on PART P and notifiable works:
https://www.electricalsafetyfirst.org.uk/find-an-electrician/building-regulations/england/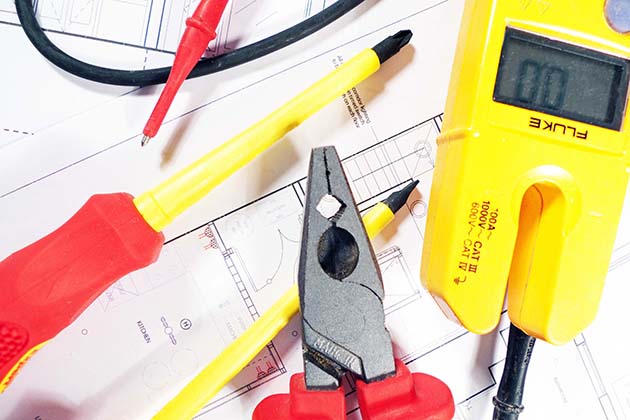 ELECTRICAL INSTALLATION CONDITION REPORTS (EICR)
In addition to certifying our own works we also offer condition reports on older properties. There are many reasons you may need to get an EICR such as: possible electrical issues being highlighted on a house buyers survey; a requirement from your house insurance company; your existing certificate having expired (check the sticker on your mains board to see when this is, if there's not one it's probably never been tested!); or just for the peace of mind of knowing your electrics have been checked and signed off as safe to use by a qualified electrician.
In addition, legislation has been brought into the private rental market to ensure that all rental properties must have an up-to-date certificate in place by 01/04/2021 and that they must be retested at least once every five years.
As part of our NAPIT membership we are an approved inspector registered on the governments private rental sector scheme.
During your EICR we will:
Check all accessories (sockets, light fittings etc.) for signs of damage and deterioration.

Check the correct protective devices are in place for each circuit to ensure you and your property are adequately protected in the case of an electrical fault.

Check everything is installed in a safe way and to regulations.

Run electrical tests on the wires hidden in the fabric of your building to check for signs of deterioration since they were installed.
On completion you will receive a detailed report on the state of your properties electrics with any issues found graded in severity from:
C1: Danger present. RISK of injury. Immediate action required (i.e. live exposed electrical parts found).
C2: Potentially dangerous. Urgent remedial action required (i.e. incorrectly sized cable which could potentially overheat and cause a fire under certain circumstances).
C3: Improvement recommended (i.e. something that doesn't pose an immediate danger but doesn't comply with current regulations).
Any C1 or C2 items found would result in an 'unsatisfactory' report being issued whereas C3 items alone are more like an advisory item on a car MOT and a 'satisfactory' certificate can still be issued.
Call or email us today to book in your condition report and enjoy the peace of mind knowing you have a safe and certified electrical installation.
FAULT FINDING AND DIAGNOSTICS
Having a fault with your electrics can be a real disaster. In the world we live in today being without power even for a short while is just not an option.
If you have a loss of power or another type of electrical fault we at Resistance Electrical are experts at finding, diagnosing and repairing a whole range of issues.
Don't hesitate to call if you have anything from a light not working, a smell of electrical burning, your heating not switching off or everything in the house tripping out the breakers.
We will find and fix the problem and get your house warm, bright and most importantly safe again in no time.